Maryland, Delaware, and Pennsylvania Car Shows.


21st Annual
Location:           Ocean City Maryland Beachside Inlet Parking Lot (Thur-Fri-
Sat-Sun Convention Center, Inside and Outside (Thur-Fri-Sat)
Dates:                Thursday, October 4, 2018 – Sunday, October 7, 2018
Show Hours:     Thursday, Friday, Saturday 9am to 5pm (Inlet & OCCC)
Sunday 9am to 3pm (Inlet location only)
Admission:        One Day General Admission: $10 (Thursday & Sunday)
$15 (Friday & Saturday)   Under 14 FREE with paid adult
Website:            www.endlesssummercruisin.com
Contact:             Special Event Productions, 410-798-6304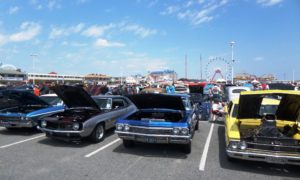 Get ready for one of the hottest hot rod shows on the East Coast, the 21st Annual Endless Summer Cruisin Car Show as it returns to the beachside resort town of Ocean City Maryland October 4-5-6-7. This four day automotive event continues to be one of the eastern regions largest fall car shows with more than 2,000 hot rods, street machines, customs and more. This event will have various car shows at the Convention Center on 40th Street, both inside and outside, as well as the downtown Inlet parking lot and various citywide locations. Registrations are filling up fast, so don't delay register today!
Scheduled to appear at Endless 2018, to help celebrate American Graffiti's 45th Anniversary, are Candy Clark and Bo Hopkins. Candy and Bo will be at the event all 4 days for meet and greets! Joining the fun, from the hit show Roadkill, Mike Finnegan will be at the event for one day only! Mike will be at the Beachside Inlet Saturday October 6th from 11am-4pm.
Being held in conjunction with Endless Summer Cruisin is the 38th Annual Hot Rod & Custom Car Show Thursday, Friday and Saturday, 9am-5pm, inside the Ocean City Convention Center. See some of the hottest show cars in the mid-Atlantic compete for cash and trophy awards. If you think your ride has what it takes, register online at oceancitycarshows.com. Plus be sure to check out the American Graffiti show cars that will be on display. Plenty of live entertainment on stage including Mook Jones on Thursday, 12noon-3:30pm, and Golden Touch, performing Friday and Saturday, 12noon-3:30pm. Also check out the vendor showroom for all your automotive needs plus jewelry, arts and crafts and more all inside the Ocean City Convention Center!
Live in Concert during Endless Summer Cruisin, one of the world's best vocal groups,
ROCKAPELLA! They will be take the stage, Thursday, October 4th, 8:00pm inside the Ocean City Performing Arts Center (4001 Coastal Highway). ROCKAPELLA has shown audiences everywhere the raw power of pure vocal talent and originality. Hear your favorite Motown, Classic, Pop, Rock and more sung like never before! Tickets are on sale now at the Ocean City Box Office (1-800-OC-OCEAN), TicketMaster (1-800-551-SEAT) or online at oceancityconcerts.com.
Some of the top National names in the country will be on display at Manufacturer's Midway located at the Inlet including Advance Auto Parts, AMSOIL, Automotive Lift Service, Miller Welding and many more.
Another Endless Summer Cruisin Car Show highlight are the special Boardwalk Parades that will take place Thursday, Friday and Saturday mornings.
Spectator tickets for Endless Summer Cruisin are $10/day Thursday and Sunday and $15/day Friday & Saturday. Four day event passes are also available for $25 in advance or $35 at the event. For more information on Endless Summer Cruisin visit www.EndlessSummerCruisin.com or call 410-798-6304.
And if all of that isn't enough, there's more! NEW this year, Endless Summer Cruisin and US 13 Dragway have teamed up for Takin' It to the Strip, October 5 & 6 at the U.S. 13 Dragway in Delmar DE. This event will feature a "No Prep Shootout" Friday, "King of the Strip" Showdown Saturday and Burnout Contests, Jet Dragsters from Larsen's Motorsports, Vendors and Car Shows both days. Saturday will also feature an American Graffiti race down the track with the American Graffiti replica cars! Events are open to vehicles of all years and makes. Show hours are Friday 4pm-10pm and Saturday 11am-11pm. Spectator tickets are $15 Friday and $20 Saturday and will be sold at the U.S. 13 Dragway. Children under 14 are free with an adult. Endless Summer Cruisin participants will receive free spectator admission into Takin' It To The Strip! For more information and a complete schedule of events visit takinittothestrip.com or call 302-846-3911.
Endless Summer Cruisin Ocean City has always held safety as our number one priority. The event does not tolerate unlawful activities or the disrespect of Ocean City. During Endless Summer Cruisin the town of Ocean City will be classified as a Special Event Zone where there will be increased fines for speeding, negligent/reckless driving, spinning wheels and alcohol related offenses. We encourage everyone that comes to Ocean City for Endless Summer Cruisin, both participants and spectators, to respect the town and abide by the rules. We look forward to a wonderful and safe Endless Summer Cruisin for 2018 and years to come!